2023 - 2024 Team Sign Up & Evaluation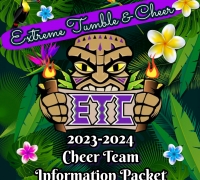 TEAM SIGN UP & EVALUATION
Team Information Packets
Team Evaluations for the 2023 - 2-24 Season:
Monday, May 22, 2023
Ages 9 - 11, 7:30 - 8:30
Tuesday, May 23, 2022
Ages 6 - 8, 6:30 - 7:30
Wednesday, May 24, 2022
Ages 12 & Up, 7:00 - 8:00
All athletes should wear the following to Team Evaluations:
BLACK SHORTS
BLACK SPORT BRA
BLACK TANK OR T-SHIRT
*If you are unable to attend either of these sessions, Make Up days can be scheduled through the office of Extreme.
COMPETITIVE TEAM CHOREOGRAPHY WILL BE 2-3 DAYS BETWEEN AUGUST 2-8.
Team Placement Fee: $50 per athlete
A $10 convenience fee MUST be paid in addition to all payments submitted via PayPal or Venmo.
ETC Evaluation Band Group Link
If you have questions about our teams, placement process, etc, please, ask in this group! We will post important information about meetings in this group.
Athletes interested in our CheerAbilities or Non-Competitive Teams should join this group as well.
« Back to News